Holiday Knit Collection
30% OFF ALL HOLIDAY KNITS AND 20% OFF ALL FEDORAS THANKSGIVING WEEKEND, NO CODE NECESSARY, DISCOUNT AT CHECKOUT.
Holiday knits are in at the HoM! My favorite time of year when I can combine my love of textiles and luxury materials at a more accessible price point and in a very wearable hat.  This year's options are highlighting cashmere, angora, yak, and wooled berets.  I was highly inspired by Taylor Swift when putting together the glass, beaded, jumbo friendship pins  and I think they give our knit beanies the kind of flair that makes you happy to put them on.  If you are looking for a handmade hat put together with care and an eye for comfort and style, you are in the right place.
Shop
Ford Fedora
The Ford is our middle of the road, straight brim fedora.  Not too wide, not too tall...this is a hat that feels like it goes on any occasion.  The brim is around 2" wide, slightly lifted,  and is easy to wear in and out of a car or restaurant.  I never hesitate when putting this shape on and the rabbit fur velour felt makes it plush to the touch and very comfortable.
Shop
Santa Fe Fedora XL
The Santa Fe is my go to hat for people with a slightly larger and deep head size. The Santa Fe fedora has a slight curve up to the brim that softens the distance between the hat and the ears.  The crown is on the taller side but is in good balance with the brim width.
Shop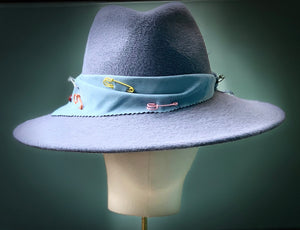 Sweet Fedora
I titled this fedora shape from the former milliner's name on this new to me brim block.  It has a lovely, slight downward slope on the front and back and measures almost 3.5" around.  This provides good sun coverage but is still small enough to be an in and out of the car type of hat. 
Shop
Kind Words
Cassie was great to work with. They custom made additional touches to my fascinator to match my outfit!. I Love it so much!

Amy C.
Cassie is fantastic! Myself and friends have purchased several hats here and she does beautiful work in a timely fashion. Highly recommend!

Jeffrey R.
Her hats are one of a kind, and her shop is one for the bucket list if you appreciate millinery done with skill and artistry!

Darlene M.
The very best in men's and women's hats. I'm on my 4th one by Cassie.

Dan P.
My wife's Royal Ascot hat was a smashing hit here in London. Many Londoners had trouble believing it wasn't one of their own that designed it. Thanks, Cassie!

Charlie P.
The talent of this hat designer is amazing! Buy something already gorgeous or bring your ideas to her! Sheer perfection.

Clarice M.