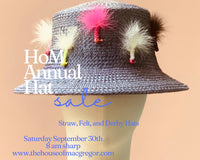 Annual Hat Sale September 30th
We have been doing our annual hat sale for the last fifteen years running during the final weekend in September.  At 8 am on September 30th our sale prices go live on the website. I love making hats but I need to move the older styles out to keep creating new ones.  This means I mark things down a lot (a lot, a lot) and it is a fabulous chance to get a bespoke made hat from the studio in Dallas, TX.  Boxes are not included but the prices more than make up for that.  I hope you grab a good one!
Shop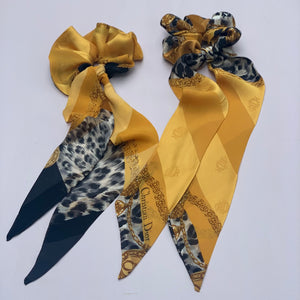 Hair Flair
I like nice things...the rustle of vintage silk in my ear or the touch of soft lambskin under my finger tips is my jam. Hair flair is another way to express the things that I love up on top of my head. They are some of the first things people will notice so have some fun with it.
Shop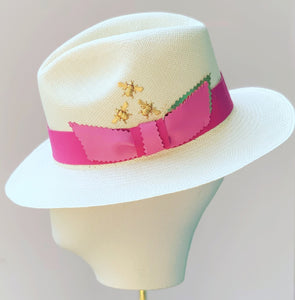 Womens Hats
In a dream world, you all could come visit my backyard studio in Dallas, Texas and experience the beautiful flowers in bloom.  Spring and early summer, before the mosquitoes hatch, is when I get to keep all the doors open and occasionally get a hummingbird in my studio.  The panama straws are soaked and hand blocked on my vintage hat forms and trimmed with all the stash I've acquired from 20 plus years of making hats.  In a nutshell, it's pretty dreamy!  This is a petite collection of original, unique designs that are meant to bring your inner style to the outside.  A hat is the first thing people will notice about you so get one with panache.
Shop
Men's Hats
The confidence with which you wear your hat is everything. We design, unique one of a kind hats made from quality materials that help you feel yourself but elevated. Our hats add to your personal style without overwhelming you with someone else's taste.
Shop
Kind Words
Cassie was great to work with. They custom made additional touches to my fascinator to match my outfit!. I Love it so much!

Amy C.
Cassie is fantastic! Myself and friends have purchased several hats here and she does beautiful work in a timely fashion. Highly recommend!

Jeffrey R.
Her hats are one of a kind, and her shop is one for the bucket list if you appreciate millinery done with skill and artistry!

Darlene M.
The very best in men's and women's hats. I'm on my 4th one by Cassie.

Dan P.
My wife's Royal Ascot hat was a smashing hit here in London. Many Londoners had trouble believing it wasn't one of their own that designed it. Thanks, Cassie!

Charlie P.
The talent of this hat designer is amazing! Buy something already gorgeous or bring your ideas to her! Sheer perfection.

Clarice M.